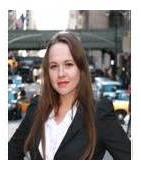 Elizabeth Zharikova
Licensed Real Estate Salesperson
O: 212.362.7557
M: 347.852.4116
Elizabeth has distinguished herself in New York Real Estate by establishing successful relationship with various home owners, real estate managements and buyers, always focusing on her client's best interest. She believes that relationship is everything. Her clients rely upon on her expert market knowledge, as she is entrenched in keeping up with the market and on new available inventory constantly.
Elizabeth has been established in New York Real Rstate for many years now. Elizabeth has bought and sold herself in various neighborhoods including Soho, Midtown West & Turtle Bay, her present home. She has worked all over Manhattan closing successful deals on co-ops, condos and new developments. Elizabeth has a vast experience working with international and domestic clientele.

Elizabeth considers herself as a workaholic and a straight shooter, because she loves the business of real estate. She will even tell you to walk away from a deal if it does not make sense. She enjoys the new opportunities and exciting challenges she faces each day as she finds creative solutions for clients and negotiates successful deals. Being a world traveler, Elizabeth loves everything New York City has to offer, especially Central Park, Chelsea Pears, various art galleries, involved in the American Red Cross and other organizations.
Languages Spoken:
Russian